8 Swaps for your Home (On a Budget)
Many of you may be inspired to take a step towards a more eco-conscious and sustainable life, especially with its growing popularity through social media!
Sustainable living has the stereotype of being expensive or unattainable. Since i'm #ballinonabudget, I thought id' share 10 sustainable swaps for your home that won't break the bank. Some of these tips even help you save money… we love that for us!
Make your own cleaning supplies

We love mixing 1/3 white vinegar, 1/3 water & 1/3 Thieves Cleaner for everything in our home

Floors, Walls, Countertops… you name it, we use this mixture to clean it!

You can add 10-15 drops of lemon essential oil for an added freshness. Lemon fights bacteria and fungus which makes it perfect to clean your home!

Saves you $:

White Vinegar = $1.99 Target

Water = Free, or added into your monthly rent/mortgage.

Thieves Cleaner = $26.61 (can be used to re-fill hundreds of bottles)

Amber Bottle = $10.99 for 2

Total cost per bottle = .03 + .00 + .26 = .29 per refill

Sustainability:

Re-using the glass bottle reduces waste. Buying ingredients in bulk reduces waste, as well.

Clean:

The ingredients are clean & effective. Essential Oils are a great alternative to nasty "fragrance" found in most conventional household cleaners.

Switch to dryer balls

We love to use these.

Saves you $:

$7.99 per dryer ball, we have re-used them over a year and they still works great. If you use it 100 times, thats $.07 per load.

Sustainability:

Made out of wool, the dryer ball replaces the need for dryer sheet waste.

Clean:

Without the nasty chemicals often found in dryer sheets, dryer balls offer a cleaner version to keep your clothes & items fresh! It may take some time to get used to not smelling like a fresh meadow, but well worth it!

Snake Plants

Snake plants bring in the air inside your home and produces pure oxygen; purifying your air, naturally. These are very easy to take care of (trust me, mine are alive and well) and they look great with any home decor.

Saves you $:

reduce the need for air purification in smaller spaces.

Sustainable:

having plants in your home filters the air, and helps to clarify toxins from your body and the environment. Indoor plants have been proven to improve your mood, as well!

Clean:

The cleanest form of air purification! A literal plant!

Beeswax Candles or a Diffuser

Why you shouldn't use traditional candles

Traditional fragrances and even soy candles contain carcinogenic toxins within the wax. Once you burn the scented candle, the toxins are released into the air you breathe, on the food you eat, and the products you use. Read more about "why beeswax", here.

Beeswax candles

I saw Organically Becca (I mentioned her so much on my blog, haha!) mention Welch Candle Company on her Instagram and after a couple weeks, ordered a three pack. The candles give off a wonderful and light honey scent.

Behind the Beeswax (credit: Welch Candle Company)

Releases negative ions leaving the air free of chemicals, pollutants, allergens and toxins making it a natural air purifier

Helps relieve headaches, allergies, depression, and seasonal depression

Promotes relaxation and helps your body absorb oxygen better

Sustainable and environment friendly

Essential Oil Diffusers

Swap out candles complete for an essential oil diffuser. Essential oils have health benefits for your body, nervous system, brain function, and so much more. Your sensory receptors link to many parts of your body, which is why aromatherapy is so beneficial. It's also a plus to leave it running all day without worrying about an open flame.

Make sure to buy your EO from reputable sources, to get the full benefits. If the EO is "fragrance oil", it's not pure essential oil from the plant! My rule of thumb is to only buy from these shops:

Saje Wellness

Young Living

Dotterra

Aura Cacia

Pre-Owned Furniture

Save you $:

Facebook Marketplace is a great place to find some great gently used furniture from amazing retailers like West Elm, Pottery Barn & CB2.

Sustainable:

By purchasing pre-owned furniture, you are reducing waste.

Clean:

Some older furniture still contains flame resistant toxins, but reusing is beneficial for our planet. The good news is, if you do decide to buy new, most furniture companies have stopped the use of flame resistant products.

Invest in an air purifier

Something Mitch & I want to purchase soon, an air purifier can help bring those toxins from your air and swap it with clean oxygen.

Saves you $:

Some brands, like TruSens, offer an air purifier under $400. Although an investment, the overall health and quality of your air will change drastically.

Sustainable:

Reduce the toxins in your air to make improve your surrounding environment, your community and on the planet we live.

Clean:

An air purifier helps to clean toxins and unwanted particles from the air we breathe.

Scroll down to see which ones are on our wishlist!

Organic Bedding

A simple and affordable swap you can make in your home. We love this bedding from Target which comes in many colors and patterns!

Saves you $:

Organic bedding tends to hold for longer periods of time, since the fabric is free of chemicals that tend to wear down cotton. Organic Bedding = longer use = saving $!

Sustainable:

Reducing the use/ waste of chemicals used on organic bedding helps the environment.

Clean:

Toxins in typical bedding, like formaldehyde, is linked to different diseases (like cancer). Short-term, the toxins can cause skin irritations and uncomfortable rest.

Water Purifier

We love our package-free bamboo charcoal water filter. Pop it in a glass container and pour to filter your water.

Saves you $:

Reduces the need for filtered water or water bottles, which saves you $.

Sustainable:

This package-free option is bio-degradable, which reduces waste.

Clean:

Bamboo Charcoal helps to pull toxins from your water.

Scroll down to see what filter is on our wishlist.
On our home wishlist
Resources
Ranks products on a toxic & sustainable level through easy-to-read information.
Make the swap: Q&A
Paper Towels

Makeup and Skincare

Start buying from brands that are conscious with their packaging and eco-footprint. Here are some brands I love:

Properly recycle your products. Check your local recycling program and make sure that everything is properly washed and dried.

Makeup Wipes & Cotton Rounds

Makeup Wipes are an easy swap! I have switched to using the Cocokind makeup remover.

Run a clean towel under warm water and press it to your face to loosen your makeup

Take 2 pumps of the oil cleaner and rub onto makeup

Take the same towel to remove your makeup

Cotton Rounds

Medicine Bottles

This is a good one that I never truly thought of! After some investigation, I found that you can remove the labels form medicine bottles and donate them. Check out this blog for more info.

If you have expired medication or used bottles, you can take them to your pharmacy so they can properly recycle them. Check out this blog for more info.

Plastic Bags

Doggie Poop Bags

TIP

Although sustainable living is important, don't kill yourself over swaps you just can't do right now. Some things, like panty liners or medicine bottles, I won't even question since it's benefitting my health. In my opinion, as long as you make a conscious effort to clean your home, the earth will thank you. Educate others rather than shunning them if they don't live sustainably; that's the only way to see effective change!

X, Natalie.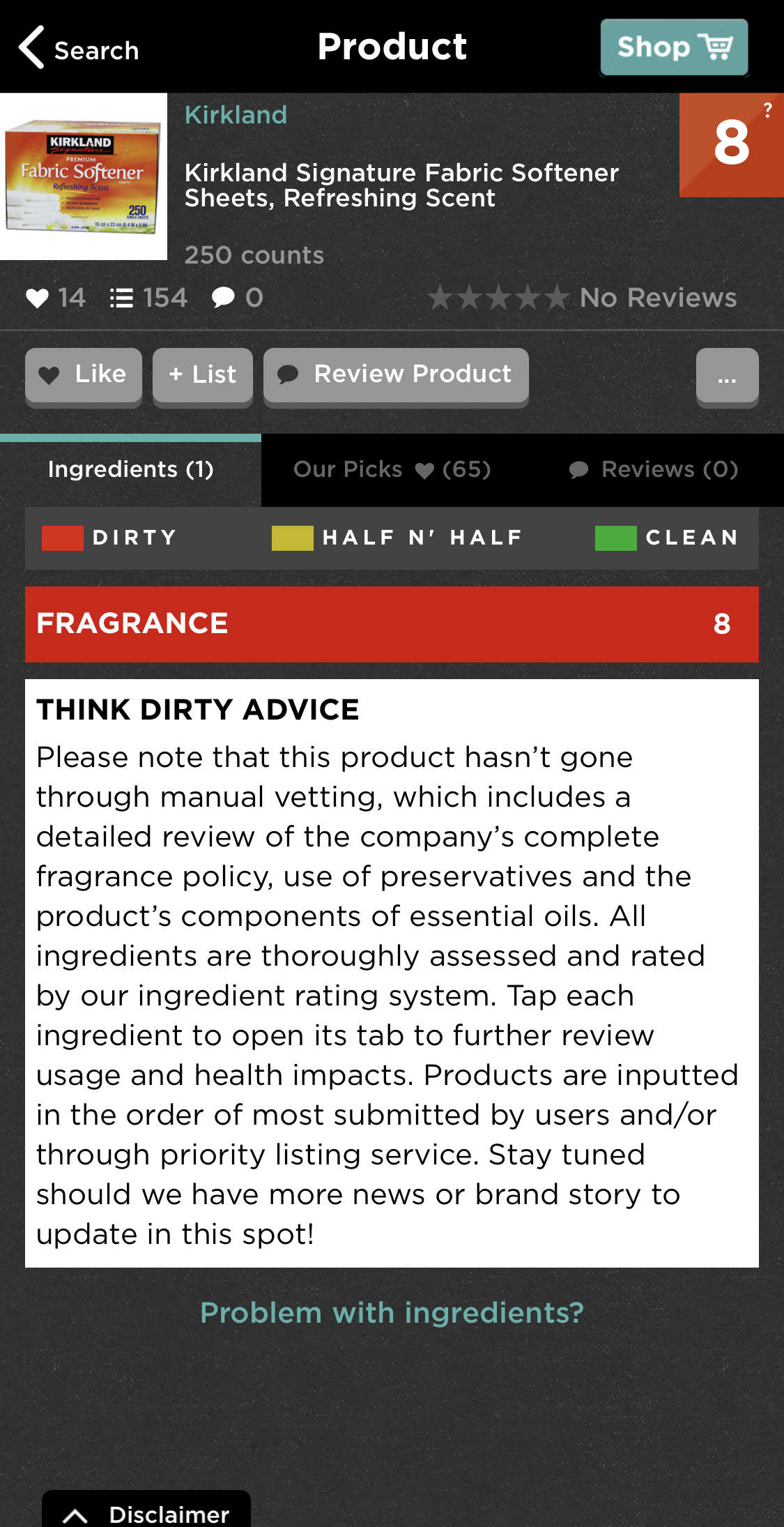 This screenshot shows the toxicity of conventional dryer sheets. App used: ThinkDirtyApp.